A man who wanted to honor his late father decided to run a marathon every day in 2022 in the hope of raising roughly $1.2 million for charity — both of which he accomplished in exactly one year.
Gary McKee, a 53-year-old from Cumbria, England, and a father of three, completed a challenge that many might never dare to try: 365 marathons in 365 days.
And as remarkable as his accomplishment is, it's not the first time McKee has defied the odds physically and mentally.
MARATHON MAGIC: TWIN BROTHERS RUN 7 MARATHONS IN 7 DAYS FOR MENTAL HEALTH AWARENESS
He climbed Mount Kilimanjaro; ran the entire length of the U.K. from Land's End to John O'Groats; cycled through Brazil; completed 100 marathons in 100 days; and also ran 110 marathons in 110 days — to name a few.
McKee, however, does not complete these formidable challenges without some inspiration.
In 1997, McKee found out his father had cancer — which was "devastating" for his family, he said. McKee has four siblings — Paul, David, Dawn and Stella (another sibling, Victor, passed away as a baby). 
NEW MOM WINS IRONMAN CHAMPIONSHIP: FIRST AMERICAN TO WIN IN OVER 25 YEARS
"One word sort of turned our world upside down," McKee told Fox News Digital of the impact on his family.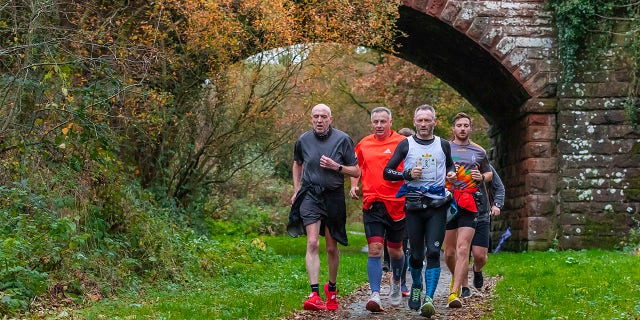 After losing his dad in 2003, McKee wanted to do something in his memory, which is why he became a fundraiser for Macmillan Cancer Support — and has been working with them for the past 20 years.
"I wanted to raise funds for those who were going to be told the same news that we'd been told."
RUNNING 1 MILE A DAY IS GAINING POPULARITY ONLINE: HOW IT CAN IMPROVE YOUR HEALTH
He added, "I've done some events over the last 20 years that people think, 'That's going to be difficult' — but I always say, 'It is difficult, not impossible.'"
He decided his next great challenge was going to be 365 marathons in 365 days.
"A lot of it is mind over matter. If you believe you can do something, you are halfway there."
"I saw it as 365 opportunities to help people," McKee said.
He decided to team up with two local and national charities — Hospice at Home West Cumbria and Macmillan Cancer Support.
His goal was to raise 1 million pounds, or about $1.2 million in U.S. dollars, by the end of that year.
LIFE LESSONS FROM FLORIDA COACH WHO HELPED MAN WITH DOWN SYNDROME COMPETE IN IRONMAN TRIATHLON
On Jan. 1, 2022, the challenge officially began — and McKee was on his way to running 9,563 miles.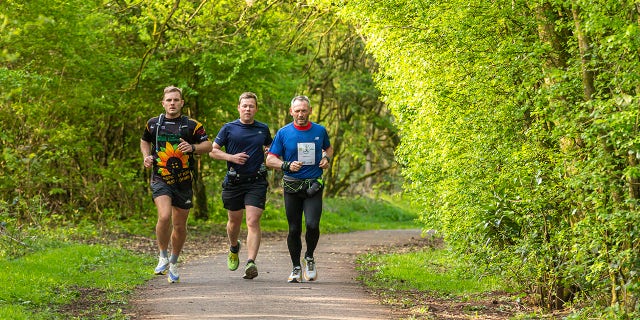 "I never had a doubt in myself. I always saw it as a 365-piece jigsaw," McKee said.
"I never, ever, ever thought I'd wake up and bite off more than I could chew," he said.
"It was the exact opposite. [There] was always an air of excitement because you didn't know who was going to be outside running with you," McKee said.
From the birth of lambs in the fields to the incoming frost on the trees, McKee saw the changing of the seasons and withstood some extreme temperatures while running the same 26.2-mile route he took every morning.
U.S. ULTRAMARATHON RUNNER CAMILLE HERRON BREAKS WORLD RECORD, BUT THERE'S A CATCH
He would run his course each morning before going to work starting at 8 a.m. 
Then, halfway through the year, a previous hamstring injury started to flare up for him — so he had to change his start time to 6 a.m. to manage his pace.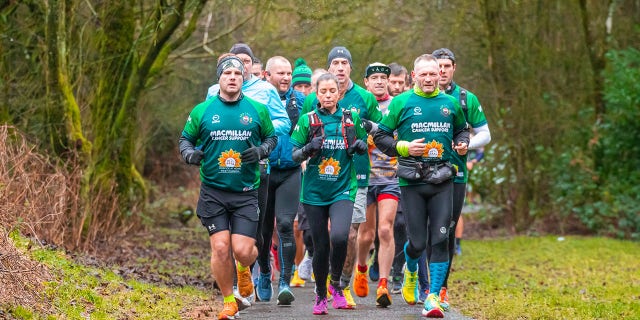 For the first six months, prior to this injury, McKee averaged 3 hours and 43 minutes.
By the end of the year, his entire average time came to 4 hours and 3 minutes.
While the injury could have dampened his spirits, he said he saw the slower pace as a "blessing," as it allowed more people to run alongside him.
ALABAMA FAMILY LEARNS VETERAN DAD SECRETLY PAID NEIGHBORS' PHARMACY BILLS FOR A DECADE: 'WANTED NO CREDIT' 
During his 365 marathons, McKee would invite people from all over the United Kingdom to join him for short sections of the route — or even to take part in all 26.2 miles.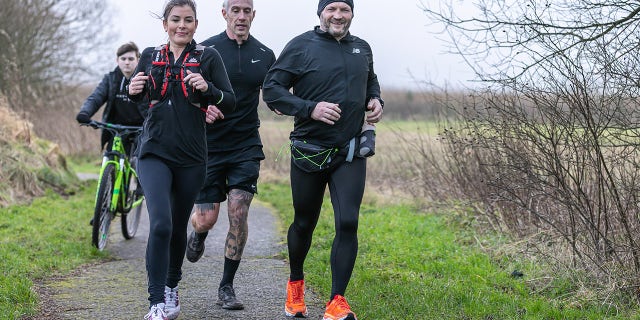 Some local schoolchildren would run alongside him, which gave him the opportunity to share the benefits of exercise with them, plus the benefits of fundraising.
"The children then wanted to go out and do more and more, so it sort of put some building blocks in place for them to grow and develop," McKee said.
There was a core group of about 12 individuals who regularly came to see McKee.
RUNNER NEARLY LOSES EAR IN FREAK DEER ATTACK DURING 5K RACE
One man joined him for 92 marathons — while another man, who has taken part in other challenges with McKee, ran 63 marathons.
"People will often challenge, 'How are you going to do that?'"
"A lot of it is mind over matter," McKee said. "If you believe you can do something, you are halfway there."
He added, "I always look for the positive. I always look for a reason to be able to do something."
REDDITORS GO WILD WHEN MAN ASKS IF IT'S WRONG TO USE TREADMILL IN BUILDING'S GYM FOR FOUR HOURS A DAY
"People will often challenge, 'How are you going to do that?' [What they mean is,] they don't believe that you can. My question [then] is, 'How am I not going to do it? You tell me why you think I can't.'"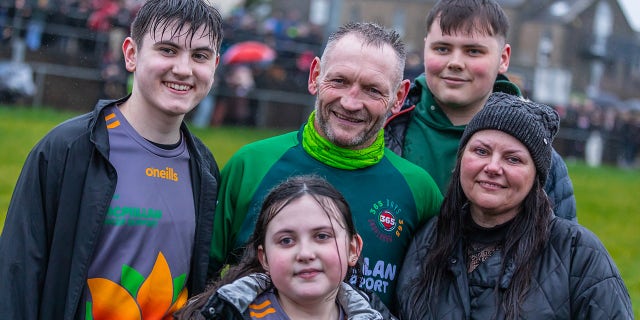 "There is always more reason to do something than there is to not do it."
During the time of his challenge, McKee was able to see over 200 people run full marathons alongside him — many of whom completed the 26.2 miles for the first time.
"When you see those people run a marathon for the first time, it was very, very empowering because you wanted to pass that onto everybody else who was there."
COLLEGIATE RUNNER URGES FEMALE ATHLETES TO DEMAND 'FAIRNESS' IN WOMEN'S SPORTS: 'USE OUR VOICES AND FIGHT'
His entire community supported him for the full year by either joining him on the road or cheering him on from the sidelines.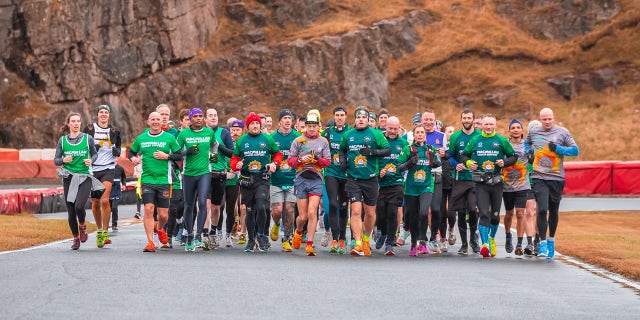 However, it was his family's support that encouraged him the most and helped him "rest easy," he said.
There was an older couple in his community who would always bring him tea and cake at the halfway point. There were other individuals as well who would wait along the route with signs counting down the days left.
"There were so many people involved, it was one big success story."
"There are all sorts of individual stories within the big 3-6-5 [and] it was a very successful time," McKee said.
"But success isn't just measured on what you achieved — it's what it was achieved to," he said. "And looking at the big picture, and it was a big picture because there were so many people involved, it was one big success story."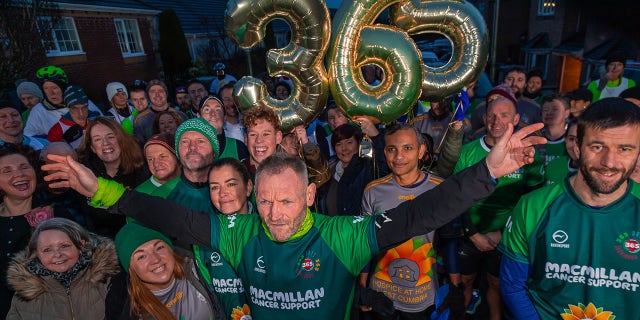 By the morning of his final run, McKee had raised only 500,000 pounds — but when he got to the end of his run only a few hours later, he had raised over 1 million pounds.
McKee had completed both of his goals.
CLICK HERE TO SIGN UP FOR OUR LIFESTYLE NEWSLETTER
"Gary's achievement and selflessness is off the scale," said Claire Rowney, executive director of fundraising at Macmillan Cancer Support.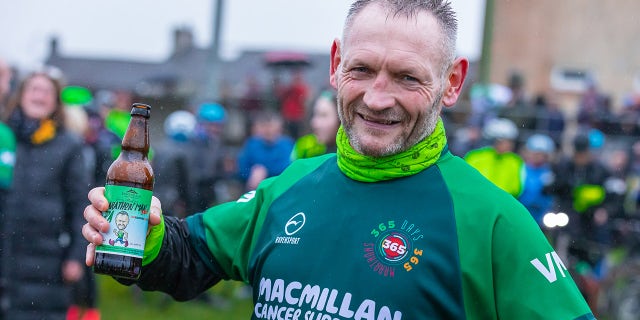 "Every single day this year, this extraordinary man has put his body through a marathon to raise money for Macmillan and our friends at Hospice at Home West Cumbria."
"I can only imagine the self-discipline and determination required to achieve this and there aren't enough words to express our heartfelt gratitude for everything that he has done to help Macmillan support people living with cancer at a time when they need us more than ever," she also said.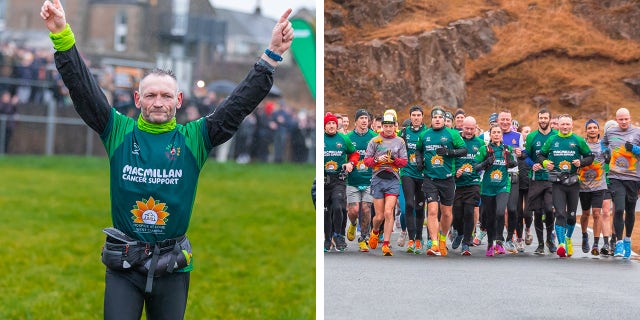 "I always said I wouldn't let people down, and I didn't," McKee said. 
And after waiting a year, he was able to enjoy a full glass of beer — and start preparing for his next challenge.
CLICK HERE TO GET THE FOX NEWS APP
He told Fox News Digital, "My dad would have been proud of what I've achieved as a fundraiser — and would've been blown away by the latest marathon challenge."
Denial of responsibility!
Vigour Times is an automatic aggregator of the all world's media. In each content, the hyperlink to the primary source is specified. All trademarks belong to their rightful owners, all materials to their authors. If you are the owner of the content and do not want us to publish your materials, please contact us by email –
[email protected]
. The content will be deleted within 24 hours.